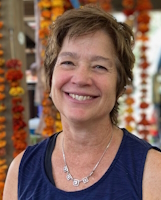 Kat is motivated to make statistics more approachable for her fellow researchers. As a Statistical Instructor, Kat gets to do a lot of different things (which she loves!) including: guiding and teaching Statistically Speaking members, editing our Statwise Newsletter and blog posts, and developing program curriculum.
Kat has a PhD in Human Development from the University of Maryland, College Park, and a Master's in Developmental Psychology from Louisiana State University. Before joining the team at The Analysis Factor, she was Associate Professor of Psychology at Ithaca College, where she taught for 17 years. Her research background includes sex role development, adolescent attachment relationships), and most recently, conservation psychology – or, how to promote sustainable human behavior on a finite planet in a time of climate crisis.
Speaking statistically, Kat's repertoire includes ANOVA, multiple regression, logistic regression, hierarchical cluster analysis and multidimensional scaling. Always a student, Kat enjoys learning new statistical procedures and appreciates well-annotated code for easy replication.