One of the important issues with missing data is the missing data mechanism. You may have heard of these: Missing Completely at Random (MCAR), Missing at Random (MAR), and Missing Not at Random (MNAR).
The mechanism is important because it affects how much the missing data bias your results. This has a big impact on what is a reasonable approach to dealing with the missing data.  So you have to take it into account in choosing an approach.
The concepts of these mechanisms can be a bit abstract.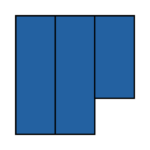 And to top it off, two of these mechanisms have really confusing names: Missing Completely at Random and Missing at Random.
Missing Completely at Random (MCAR)
Missing Completely at Random is pretty straightforward.  What it means is what is (more…)
---