Need to dummy code in a Cox regression model?

Interpret interactions in a logistic regression?
Add a quadratic term to a multilevel model?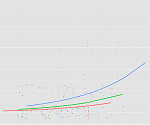 This is where statistical analysis starts to feel really hard. You're combining two difficult issues into one.
You're dealing with both a complicated modeling technique at Stage 3 (survival analysis, logistic regression, multilevel modeling) and tricky effects in the model (dummy coding, interactions, and quadratic terms).
The only way to figure it all out in a situation like that is to break it down into parts.  [Read more…] about How to Combine Complicated Models with Tricky Effects