I love working with my clients.
I love working with my clients for many reasons, but one of them is I learn so much from them.
Just this week, one of my clients showed me how to get SPSS GENLINMIXED results without the Model Viewer.
She's my new hero.
If you've ever used GENLINMIXED, the procedure for Generalized Linear Mixed Models, you know that the results automatically appear in this new Model Viewer. 
It's this weird fancy-graphical-looking-but-extremely-cumbersome-to-use thingy within the output window.
I was very happy when SPSS came out with Generalized Linear Mixed Models in version 19.  Before that I had to tell clients that the only way to analyze their repeated measures logistic regression model was in some other software.
It's a great way to ruin someone's day–tell them they need to attempt SAS or R programming for the first time while learning extremely complicated statistical models.
So I was glad that SPSS became an option for generalized linear mixed models.
But that Model Viewer had led me to nearly give up that option.  It's that annoying.  (Google it if you're curious about the hate for the Model Viewer).
Anyway, there is now a way to get rid of it.
I have SPSS version 22 and I don't know if this option has existed all along or if it's new.
To Get Rid of the Model Viewer in SPSS:
Go to the Edit Menu and choose Options (it's at the bottom).
Choose the Output tab.
Under Output Display, there are two Display methods.  "Model Viewer" will be chosen by default.  Change it to "Pivot Tables and Charts," Click OK.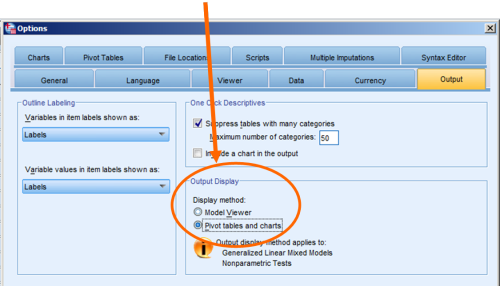 That's it!  It takes about 30 seconds.
You'll get all the same output, but each table and graph will be a separate object within the output window.  Much easier to work with.
If you have a version of SPSS from 19-21, let me know in the comments if it works for you as well.