If you have significant a significant interaction effect and non-significant main effects, would you interpret the interaction effect?
It's a question I get pretty often, and it's a more straightforward answer than most.
First, it's important to keep in mind the nature of statistical significance. The .05 threshold for p-values is arbitrary. p-values are a continuum and they depend on random sampling. So the significant/not significant divide doesn't follow rules of logic. Rules like "if A < B and B < C, then A < C" don't apply here.
So just because an effect is significant doesn't mean it's large or meaningfully different than 0.
It could be, but it doesn't have to be.
So first off, with any effect, interaction or otherwise, check that the size of the effect is large enough to me scientifically meaningful, in addition to checking whether the p-value is low. It will require you to use your scientific knowledge.
So I'm going to use the term "significant and meaningful" here to indicate an effect that is both.
There is really only one situation possible in which an interaction is significant and meaningful, but the main effects are not: a cross-over interaction.
Unlike many terms in statistics, a cross-over interaction is exactly what it says: the means cross over each other in the different situations.  Here's an example of a two-by-two ANOVA with a cross-over interaction: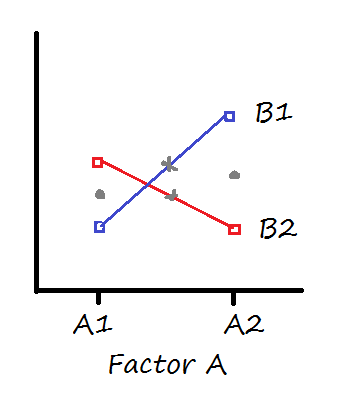 The two grey dots indicate the main effect means for Factor A.  Their height is pretty much the same, so there would be no main effect for Factor A.
The two grey Xs indicate the main effect means for Factor B.  Sure, the B1 mean is slightly higher than the B2 mean, but not by much.  In most data sets, this difference would not be significant or meaningful.
But there clearly is an interaction.  The difference in the B1 means is clearly different at A1 than it is at A2 (one difference is positive, the other negative).
So yes, you would would interpret this interaction and it is giving you meaningful information.
What does it mean?  You'd say there is no overall effect of either Factor A or Factor B, but there is a crossover interaction.  The effect of B on the dependent variable is opposite, depending on the value of Factor A.