You probably learned about the four levels of measurement in your very first statistics class: nominal, ordinal, interval, and ratio.

Knowing the level of measurement of a variable is crucial when working out how to analyze the variable. Failing to correctly match the statistical method to a variable's level of measurement leads either to nonsense or to misleading results.
But the simple framework of the four levels is too simplistic in most real-world data analysis situations.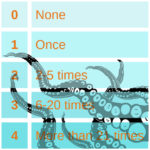 In this training, you will learn:
Different ways of describing and thinking about level of measurement
The statistical and other practical considerations in determining a variable's level
When and how we can decide to change a variable's level
---
Note: This training is an exclusive benefit to members of the Statistically Speaking Membership Program and part of the Stat's Amore Trainings Series. Each Stat's Amore Training is approximately 90 minutes long.
About the Instructor

Dr. Christos Giannoulis has over 14 years experience with advanced exploratory, predictive, and prescriptive analyses using a combination of graphical user interface software (e.g., SPSS modeler, Jmp, Statistica, and Stata) as well as programming languages (e.g., R and Python) on desktop and cloud environments. He has authored and co-authored 5 reports, published more than 30 papers using statistical analysis, and presented at conferences in North America and Europe.

He strives to advance statistical analyses from correlation to causation analyses using Frequentist and Bayesian methods.

Christos's background in education, statistics, assessment, and evaluation—along with his practical experience in applied data science—have given him an excellent foundation as a statistical consultant and mentor. His goal is to support the efficiency and effectiveness of your projects through exceptional statistical analysis and usable results.

Not a Member Yet?

It's never too early to set yourself up for successful analysis with support and training from expert statisticians. Just head over and sign up for Statistically Speaking.

You'll get access to this training webinar, 100+ other stats trainings, a pathway to work through the trainings that you need — plus the expert guidance you need to build statistical skill with live Q&A sessions and an ask-a-mentor forum.