Generalized linear mixed models (GLMMs) are incredibly useful tools for working with complex, multi-layered data. But they can be tough to master.

In this follow-up to October's webinar ("A Gentle Introduction to Generalized Linear Mixed Models – Part 1"), we'll cover important topics like:
– Distinction between crossed and nested grouping factors
– Software choices for implementation of GLMMs
– Estimation methods for GLMMs – and the pros and cons of each
– Interpretation pitfalls for GLMMs
– Measures of model fit for GLMMs
– Model diagnostics for GLMMs
– Resources for learning more about GLMMs
With the help of practical examples, you'll learn the major issues involved in working with GLMMs and how to incorporate these models into your own work.
(Note: You will have access to October's webinar recording to watch or re-watch it in preparation for this month's webinar.)
---
Note: This training is an exclusive benefit to members of the Statistically Speaking Membership Program and part of the Stat's Amore Trainings Series. Each Stat's Amore Training is approximately 90 minutes long.
About the Instructor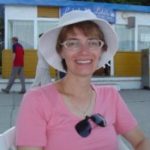 Dr. Isabella Ghement is the principal of Ghement Statistical Consulting Company Ltd., an independent statistical consulting and training firm in Richmond, British Columbia, Canada.

Isabella has presented a number of R and advanced regression short courses at conferences and universities. She is a member of the Steering Committee for the American Statistical Association's Conference on Applied Statistical Practice 2017, where she chairs the Short Courses and Tutorials Sub-Committee.

Isabella obtained her Ph.D. in Statistics from the University of British Columbia.

Not a Member Yet?

It's never too early to set yourself up for successful analysis with support and training from expert statisticians. Just head over and sign up for Statistically Speaking.

You'll get access to this training webinar, 100+ other stats trainings, a pathway to work through the trainings that you need — plus the expert guidance you need to build statistical skill with live Q&A sessions and an ask-a-mentor forum.