Based on questions I've been asked by clients, most analysts prefer using the factor analysis procedures in their general statistical software to run a confirmatory factor analysis.
While this can work in some situations, you're losing out on some key information you'd get from a structural equation model. This article highlights one of these.
The process is very straight forward. Because it's a confirmatory model, you know the number of factors the variables (indicators) should load onto and specify that number. You make sure each variable has a loading above a specific level and that the indicators that are supposed to load onto the same factor do.
Next you check the Cronbach's alpha of each construct. The final step is to generate estimated factor scores for each subject in the data set.
Here is an example using data from the International Personality Item Pool, a web based survey tool. The latent construct of interest is the Assertiveness scale. This scale is part of an experimental personality test.
The indicators for this one factor are:

The eigenvalues clearly show a one factor model is appropriate.
Cronbach's alpha statistic is excellent as well: .8458.
The factor loadings are all above 0.45. Here is a comparison of the factor loadings using the EFA model and a structural equation model:
The results are practically identical. So why not use the factor analysis procedure?
Model Fit
Do we have a good model fit?
There isn't a method to determine fit using the factor analysis procedure. Fortunately the structural equation model has several methods. The key model fit statistics for the Assertiveness construct are shown below.
We see that the construct is not within the suggested ranges for a good fitting model.

Understanding Model Fit through Residuals
As with linear regression, SEM lets you examine the standardized residuals to determine goodness of fit. A good fitting model should have the majority of its standardized residuals less than the absolute value of 2.50.

There clearly are some problematic residuals, such as as7/as8 at 10.496.
Understanding Model Fit through Modification Indices
SEM also provides modification indices, which provide information about the specific parts of the model that are leading to poor fits within the model's variance/covariance structure. Knowing where the model isn't working can help you decide how to improve the model.
Values greater than 10 are problematic.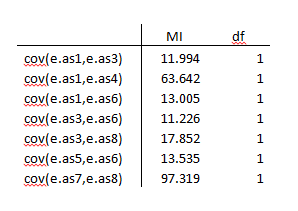 Improving the Factor Analysis Model
Using the information provided by the standardized residuals and modification indices, we're able to refine the measurement of the Assertiveness construct. The new model consists of five indicators, AS3 to AS7. Here are the goodness of fit statistics.

The standardized residuals improved as well.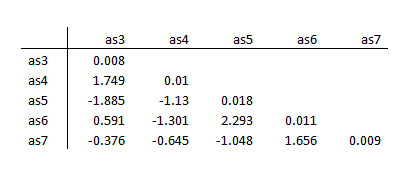 If we use a structural equation model we can be confident we have a well-structured latent construct.
Jeff Meyer is a statistical consultant with The Analysis Factor, a stats mentor for Statistically Speaking membership, and a workshop instructor. Read more about Jeff here
.